Edward's Films:
Death to Smoochy (2001) In-production
Frida Kahlo (2001) Release date unknown
The Score (2001)
Keeping the Faith (2000)Director/Producer
Forever Hollywood (1999)
Fight Club (1999)
American History X (1998)
Rounders (1998)
Out of the Past (1998) voice
The People vs. Larry Flynt (1996)
Everyone Says I Love You (1996)
Primal Fear (1996)*Kristin's favorite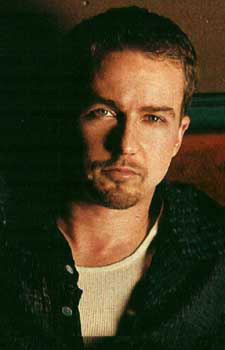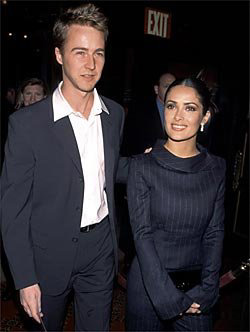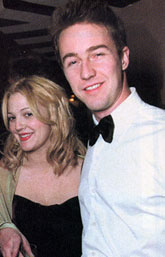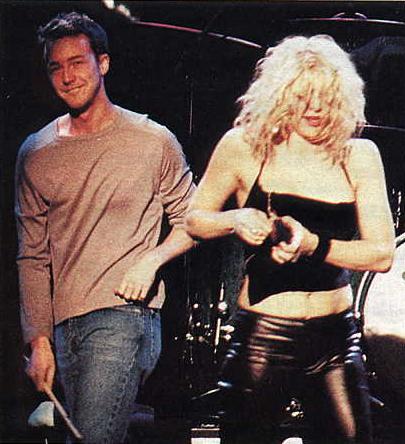 Eddie (my nickname for Edward served as Director & Producer on "Keeping the Faith" where he player Father Brian Kilkenney Finn.

Eddie currently dating his "Frida Kahlo" costar Salma Hayek.
They've been together since 1999.
Eddie has dated Drew Barrymore & Courtney Love.

Eddie can speak fluent Japanese
Eddie has a cat named Maggie whom he named after the character in Tenneesee Williams's play "Cat on a Hot Tin Roof"

His architech grandfather James Rouse is sometimes called the "inventor" of the shopping mall because of his designs.

Played a guitar with a Los Angeles band named Hole in December 1998.

Eddie is an advit non-smoker.
Worked as a waiter in New York before being signed by famed playwright, Richard Albee.
Dedicated "Keeping the Faith" to his late mother, Robin.
Eddie's height: 5'10
Eddie and Brad Pitt took soap making classes together while making "Fight Club"
Eddie's favorite poet: Dylan Thomas
Edward and "Rounder's co-star Matt Damon competed in World Series of Poker at Las Vegas on May 1998.