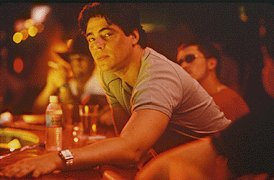 Benicio's Films:

The Assumption of the Virgin (2002)*In production
The Hunted (2002)*In production
Bread and Roses (2001)
The Pledge (2001)
Snatch (2001)*My Favorite
Traffic (2000)*Benicio's Best Film
The Way of the Gun (2000)* One of my favorite's
Fear and Loathing in Las Vegas (1998)
Excess Baggage (1997)
Canne$ Man (1996)*Treat Film
Joyride (1996)
The Funeral (1996)
The Fan (1996)
Basquiat (1996)
The Usual Suspects (1995)
Swimming with the Sharks (1994)
Fearless (1993)
Money for Nothing (1993)
Huevos de oro (1993)
Christopher Columbus: The Discovery (1992)
China Moon (1991)
The Indian Runner (1991)
"Drug Wars: The Camerena Story" (1990) TV *Treat Film
Licence to Kill (1989)
Big Top Pee-wee (1988)* Kristin's Favorite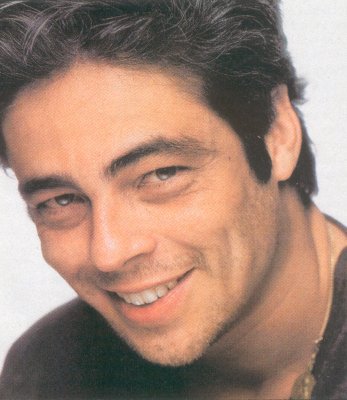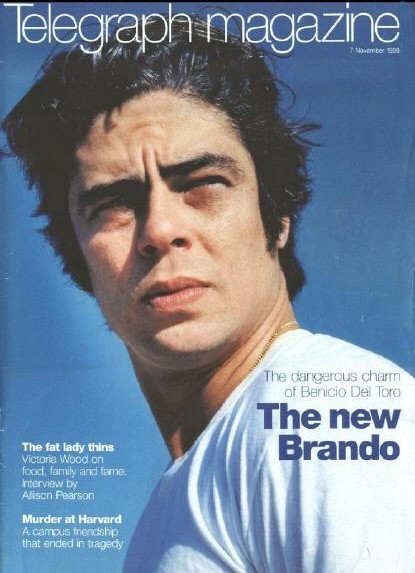 Benicio Info:
BDT's height is 6'4'
Benicio has hazel eyes
Benicio is presently single
Bdt's favortie actor is Marlon Brando to whom BDT is often compared. BDT is oftened called the 'Latin Brando'
BDT's favorite movie is "PAPILLION" because it was the only movie he ever saw with his mother.
Other Bdt favorite movies: "The Creature from Black Lagoon", "Dracula", "Frankenstein", and "The Wolfman".
BDT's musical tastes include: The Rollingstones, Bruce Springsteen, Santana, The Beatles, Lou Reed, The Who,
The CLASH*, and Jimi Hendrix.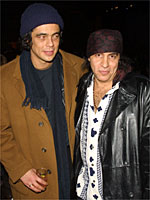 Benicio and Steven Van Zant at the World Premier of the 3rd Season of the hit TV show "The Sopranos" Rumor has it that BDT will guest star in a 4rth season episode. Tipped off by "High on Benicio", THX GABBY!